February 3, 2022
Blood Donation Camp Notice | Class 11 | Class 12 | English | CBSE |
Blood Donation Camp Notice | Class 11 | Class 12 | English | CBSE |
What is notice?
A notice is an announcement or piece of information for a specific group of people. Notices are usually put up on public places or in newspapers and magazines. They always have formal announcements or information, so the tone and style of notices is formal and factual. The language in notices should be simple and formal. Notices are always brief and to the point.
Format of Notice
Important Points to Remember While Writing a Notice
Put it in a box if asked

Write the name of Issuing Authority (Institution/Organisation/Company/Society) on the top in the center of the box.

Write the word Notice

Write formal date on the left side

Write Subject/Heading in the center

Write body of the notice in about 50 words

End the notice with Signature, Name and Designation

Do not sign if writing as a head boy or head girl.
Marking Scheme of Notice Writing
Format – 1 Mark (Name of Issuing Authority, Word 'Notice', Heading, Date, Writer's name with Designation)
Content – 2 Marks
Expression – 1 Marks
(Grammatical Accuracy, Appropriate Words and Spellings – 0.5 Marks)
(Coherence, Relevance of Ideas and Style – 0.5 Marks)
Sample of Notice Writing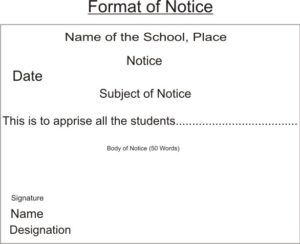 Question 1: Your school is going to organise a blood donation camp in its campus on coming Monday. Write a notice to be put up on your school's notice board in about 50 words. You are Abhi/Abhilasha, Head boy/Head girl of Delhi Public School, Panipat.
Answer :
Delhi Public School, Panipat
Notice
3rd February, 2022
Blood Donation Camp
This is to inform all the students that our school is going to organise a Blood Donation Camp on coming Monday on acccount of Doctor's Day from 10 AM to 4 PM in its premises. If anyone wants to donate blood, he/she can contact his/her class teacher after the recess tomorrow. Before that, he/she needs to get the consent form signed from his/her parents. For more information contact undersigned.
Abhi/Abhilasha
(Head boy/girl)
RELATED
Do share this post if you liked Blood Donation Camp Notice. For more information, keep logging on BrainyLads